Today's Monday project is a fall banner that says 'Family'.
Each flag has a different element behind the letters (acorn and two different kinds of leaves). Since it is a 6 letter word I did two elements each.
Here are some close up pictures.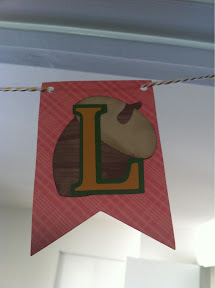 I used the Thanksgiving Dinner kit from SVG Cuts. I put the flags together using twine from The Twinery.
I really loved making this banner and I am going to make another one for Thanksgiving.
This was a pretty simple project.
Hope you like it!!
Happy Crafting!!
~Michelle