My Monday project is a 'Recycle & Reuse' project by altering this trail mix container which is
perfect for holding my Twine in.
This is before: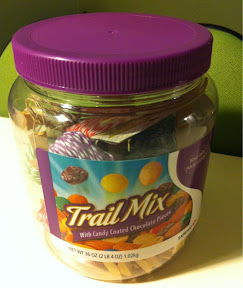 I have wrapped my twine around clothes pins and this container was perfect to house them all. I really like using the clothes pins for the twine too! It really makes it easier to work with it that way.
I always seemed to get it tangled in the little bundle it came in.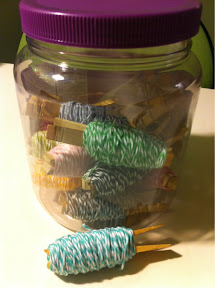 Using my Creative Memories circle cutting system, I cut two circles to cover the lid of the container. I used a lavendar cardstock and some polka dot paper I had in my stash. My room is green, so the paper had to have green in it and I was able to match the purple of the lid too. I didn't want to put ribbon on the outside of the lid because I wanted to still have a good grip to open it.
I cut out the word "TWINE" on green cardstock as well as the same lavendar cardstock I used on the lid. I used the same polka dotted paper as I did on the lid to cover the trail mix label on the jar.
I then glued everything together and onto the container.
I then used my 'diamond' stickles and outlined the word "Twine" with it to give it
some sparkle and pop!

And here is the finished product.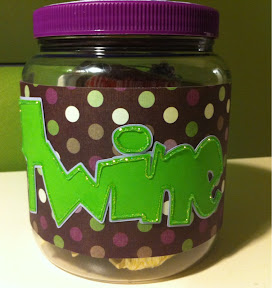 I sure hope you liked my project. I really like the idea of being able to 'Recycle & Reuse' items, especially when it helps keep all my crafty items organized!
Happy Crafting!!
~Michelle